Communicator Authenticity and Writing Motivation of University Students on Social Medium
Zainurrahman Zainurrahman

Prodi Pendidikan Bahasa dan Sastra Inggris, STKIP Kie Raha Ternate
Keywords:
motivation, writing, social media, communicator authenticity
Abstract
This research is accomplished to understand the triggers of the university students' motivation in writing through social medium networks which is suspected by writing-matrix project, it is wellknown as 'communicator authenticity' which provides an authentic textual interaction. It is realized that the frequency of students' writing activity on social media is a wonderful phenomena if it is compared to their writing activity in the classroom. This qualitative descriptive research used questionnaire as the instrument in collecting the data, which are then analyzed by applying theory of emotion, motivation, and computerized learning media. This research concluded that communicator authenticity is not the only trigger of students' motivation to write on social medium, but the value and the meaning given by the students toward the social media itself that play an important role. Features, easiness, and emotional fulfillment to write are the other triggers which motivate students to write frequently on the social media. The academic significance of this research shows an opportunity for the lecturer to increase students writing motivation in the classroom-based writing activity or in the other academic contexts.
Downloads
Download data is not yet available.
References
Bold, C. 2004. Supporting Learning and Teaching. David Fulton Publisher Ltd.
Cacioppo, J. T. And Berntson, G. G. 2007. "Affective Distinctiveness: Illusory or Real?". Cognition & Emotion, 21: 6, 1347-1359
Deci, E.L., Vallerand, R. J., Pelletier, L. G., and Ryan, R.M. 1995. "Motivation and Education: The Self-Determination Perspective". Educational Psychologist, 26 (3&4), pp.325-346.
Dickinson, L. 1995. "Autonomy and Motivation: A Literature Review". System. Vol. 23, No. 2, pp. 165-174
Frijda, N. H. 1988. "The Laws of Emotion". American Psychological Association. May, 1988. Vol. 43, No. 5, pp.349-358
Hong, F. 2006. "Students' Perception of Peer Response Activity in English Writing Instruction". CELEA (Bimonthly) Aug. 2006. Vol. 29, No. 4
Lee, M. J. 2008. "Using Blogs as ePortfolios in ESL/EFL Writing Classes". The Newsletter of TESOL's Second Language Writing Interest Section. 2008. Vol.3 No. 2
Lewis, M., Jones, J. M. H., and Barrett, L.F. 2008. Handbook of Emotions. The Guilford Press
Noback, et al. 2005. The Human Nervous System: Structure and Function. Sixth Edition. Humana Press.
Pinkman, K. 2005. "Using Blogs in the Foreign Language Classroom: Encouraging Learner Independence". The JALT CALL Journal, 2005, Vol. I, No. I, pp.12-24.
Ryan, R.M., and Deci, E.L. 2000. "Intrinsic and Extrinsic Motivation: Classic Definitions and New Directions". Contemporary Educational Psychology. 25, pp. 54-67 (2000).
Stevens, et al. 2008. "Writingmatrix: Connecting Students with Blogs, Tags, and Social Networking". TESL-EJ. March 2008, Vol. 11, No. 4
Urkuhart, V dan McIver, M. 2005. Teaching Writing in Content Areas. McREL.
Williams, J. 2005. Teaching Writing in Second and Foreign Language Classroom. McGrawHill.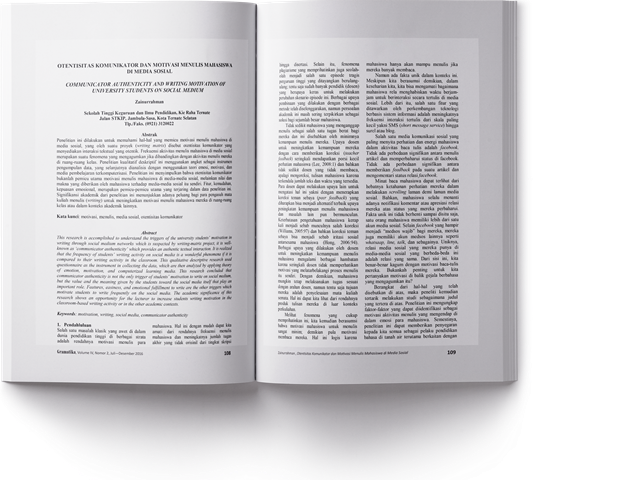 How to Cite
Zainurrahman, Z. (2016). Communicator Authenticity and Writing Motivation of University Students on Social Medium. Gramatika: Jurnal Ilmiah Kebahasaan Dan Kesastraan, 4(2), 108-118. https://doi.org/10.31813/gramatika/4.2.2016.83.108--118
Copyright (c) 2016 Zainurrahman Zainurrahman
This work is licensed under a Creative Commons Attribution-NonCommercial-ShareAlike 4.0 International License.
The writer of published paper on Gramatika have agreed this following:
Article copyright still had by the author.
The author gives the first publication right of the article to Gramatika and its lisence onto Creative Commons Attribution License that allow other party to use or recitate the article but keep mention the name of original author and the first publication on Gramatika.
The author is allowed to republish the article that Gramatika have been published it before through separated contract deal due to non-exclusive distribution (ex: submitting in to institution repository or publishing onto a book) but still mention the first publication on Gramatika.
The author is allowed and recommended to distribute her/his papers to the virtual world (ex: in the institution repository or author's homepage) before or during the document consignment process because can support the productive exchange also an early and wide citation.
Every documents have been accepted should be attached with Copyright Submission Approval Form before article publication. Download the form here.