The Phonology of Non-Austronesian Isolect in Morotai Island
Marwia Hi. Ibrahim

Institut Agama Islam Negeri (IAIN) Ternate
Keywords:
phonology, morpho-phonemic, non-austronesia isolect, morotai island
Abstract
The people in the southern part of Morotai Island speak a similar isolect with Galela language, and the others in the northern part of the island speak Tobelo language. in addition, the people of Pilowo and Waringin Village speak Gorap language, while the small member of people use Sangir language. This research aims to explain (1) a description of non-Austronesian isolect in Morotai Island. (2) The morphophonemic process of non-Austronesian isolect in Morotai Island. in this research, there are three villages selected as observation points, i.e. Daeo Village in the district of South Morotai, Sangowo and Mira Village in the district of East Morotai. in each point of observation consists of three informants. The elicitation of linguistic data were used Swadesh wordlist. The provision of data were used interview and comprehension methods through face to face interview, note taking, and recording as well as intercepting technique. The data were analyzed by applying intralingual correspondence method. The results of this study suggest that (1) The non-Austronesian isolect in Morotai Island has five vowel sounds: /a/, /e/, /i/, /o/, and /u/; 15 diphtong sounds: /ia/, /ao/, /uo/, /ou/, /eo/, /ae/, /oi/, /au/, /io/, /oa/, /ue/, /iu/, /ai/,/ui/, and /ua/; and 21 consonant sounds: /p/, /t/, /k/, /Ɂ/, /b/, /ʤ/, /d/, /g/, /m/, /n/, /ɲ/, /ŋ/, /r/, /f/,/s/, /j/, /h/, /ʧ/, /l/, /w/, and /y/. (2) The morpho-phonemic processes of the non-Austronesian isolect in Morotai Island occur due to affixation process
Downloads
Download data is not yet available.
References
Kridalaksana, Harimurti. 2001. Kamus Linguistik, Edisi Ketiga. Jakarta Gramedia Pustaka Utama.
Kridalaksana, Harimurti. 2005. Leksikon, dalam Kushartanti; Untung Yuwono; Multamia RMT Lauder, Pesona Bahasa Langkah Awal Memahami Linguistik. Jakarta: Gramedia Pustaka Utama.
Ladefoged, Peter. 1982. A Course in Phonetics. Second Edition. United States of America: Harcourt Brace Jovanovich, Inc.
Mahsun. 1995. Dialektologi Diakronis Sebuah Pengantar. Yogyakarta: Gadjah Mada University Press.
Mahsun. 2005. Metode Penelitian Bahasa- Tahapan Strategi, Metode, dan Tekniknya. Jakarta: PT. RajaGrafindo Persada
Malmkjaer, Kirsten (Editor). 1996. The Linguistics Encyclopedia. London and New York: Routledge
Moeimam, Susi & Hein Steinhauer. 2005. Kamus Belanda-Indonesia. Jakarata: KITLV dan PT Gramedia Pustaka Utama.
Ramlan, M. 2001. Morfologi Suatu Tinjauan Deskriptif. Yogyakarta: C. V. Karyono.
Verhaar, J. W. M. 2004. Asas-Asas Linguistik Umum. Yogyakarta: Gadjah Mada University Press.
Wahya, 2011. "Fenomena Difusi Leksikal Unsur Bahasa". Jurnal Sosioteknologi, edisi 23 Tahun 10, Agustus 2011. Hal 1110-1116
Wilkinson, R. J. tt. Malay- English Dictionary (Romanised). Tokyo: Daitoa Syuppan Kabusiki Kaisya.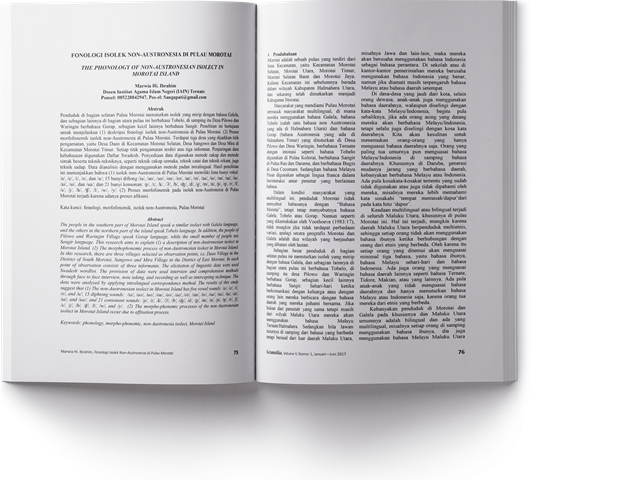 How to Cite
Ibrahim, M. (2017). The Phonology of Non-Austronesian Isolect in Morotai Island. Gramatika: Jurnal Ilmiah Kebahasaan Dan Kesastraan, 5(1), 75-89. https://doi.org/10.31813/gramatika/5.1.2017.96.75--89
Copyright (c) 2017 Marwia Hi. Ibrahim
This work is licensed under a Creative Commons Attribution-NonCommercial-ShareAlike 4.0 International License.
The writer of published paper on Gramatika have agreed this following:
Article copyright still had by the author.
The author gives the first publication right of the article to Gramatika and its lisence onto Creative Commons Attribution License that allow other party to use or recitate the article but keep mention the name of original author and the first publication on Gramatika.
The author is allowed to republish the article that Gramatika have been published it before through separated contract deal due to non-exclusive distribution (ex: submitting in to institution repository or publishing onto a book) but still mention the first publication on Gramatika.
The author is allowed and recommended to distribute her/his papers to the virtual world (ex: in the institution repository or author's homepage) before or during the document consignment process because can support the productive exchange also an early and wide citation.
Every documents have been accepted should be attached with Copyright Submission Approval Form before article publication. Download the form here.